Why Understand Spleen Stomach and Immune Function?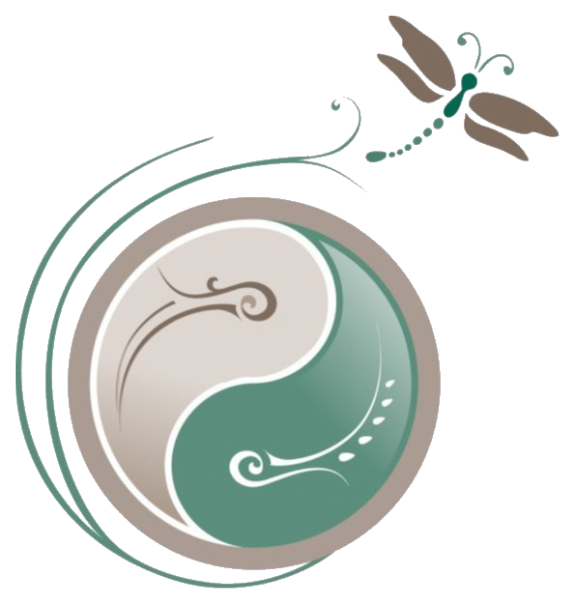 As we enter into the season of 'Late-Summer', we can look to Chinese Medicine Theory for insights as to how our whole being functions from a holistic viewpoint. Late-Summer is the 'season' of the Spleen and represents the Earth element and the color Yellow.
The Spleen controls the ascending of Vital Force (Qi), governs transformation and transportation (Yun Hua) of 'food essences' and Qi (assimilation of nutrients from food), keeps blood inside the vessels, 'opens' to the mouth and manifests on the lips, houses the 'Yi' (Intellect) and controls the blood, muscles and the four limbs. Singing is the 'sound of the spleen' and 'pensiveness' can weaken the energy of the spleen.
Western Medicine Theory attributes healthy spleen function to fighting external invaders, producing antibodies and enhancing immune function. Read on to learn how to fortify your spleen during this 'late-summer' season.
Spleen and Stomach Meridians
Immune Health – Chinese Medical Theory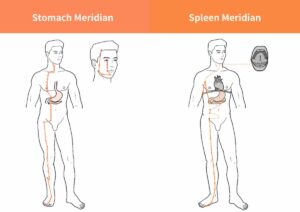 Food Therapy for the Spleen  \ Why understand Spleen Stomach and Immune Function?

Gut Health Herbs and Supplements
Ginger, Fennel, Basil, Garlic
Citrus peel and oil
Cloves, Cinnamon, Cardamom
Green Tea
Kelp
HCL / Betaine
Digestive Enzymes
MegaSporeBiotic is an excellent spore-based probiotic to 'Recondition' the gut. Leaky Gut Syndrome is very common due to the toxic environmental exposures so prevalent in our society today. 
Lifestyle Practices – Mindful Eating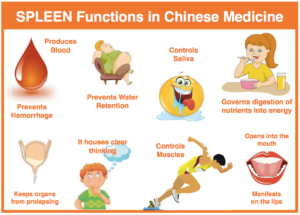 Why understand Spleen Stomach and Immune Function?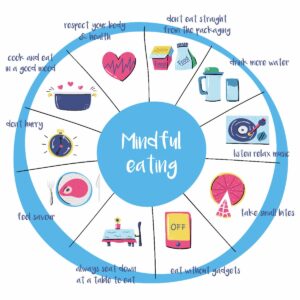 Keep Up With Dr. Kathy Veon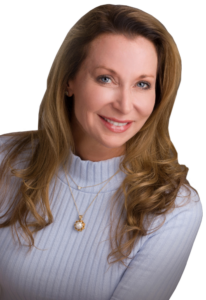 Dr. Kathy Veon, DAOM, AP, CCN is a graduate of Emperor's College of Traditional Oriental Medicine in Santa Monica, CA as well as Florida College of Integrative Medicine in Orlando, Florida. 
She is a board-certified Licensed Acupuncturist, Certified Clinical Nutritionist, and Doctor of Acupuncture & Oriental Medicine. Dr. Veon is currently serving as Chair of the Florida Board of Acupuncture, and Committee Chair of Continuing Education for the International and American Associations of Clinical Nutritionists (IAACN).   
She holds a private practice in Lake Mary, Florida at Central Florida Preventive Medicine where she specializes in holistic medicine therapies such as Functional Medicine, Clinical Nutrition, Quantum Reflex Analysis (QRA), Acupuncture, Pelotherapy, NAET (allergy elimination technique), Western and Chinese Herbology, Nutrigenomic Testing and Nutritional Therapies, EVOX Perception Reframing, Environmental Medicine and helping her patients overcome chronic and debilitating illnesses through finding and correcting the root causes of disease.
Our office has numerous services to assist people with achieving a good foundation of health – please visit the services page now to learn more. To learn about the other diseases that our medical office handles – please visit the diseases page now. Furthermore, to learn more about Doctor Kathy Veon now – visit her Linkedin page – just click this link.