What is the energy of medicine?
The Energy of Medicine explained by Dr. Kathy Veon
The study of Quantum Physics teaches us that 'everything is energy'.  Everything vibrates at a specific frequency, which often reveals the overall health or vibrancy of the object or living thing. 
Chaotic energy is destructive, while energy that is 'harmonized', 'coherent', or in alignment with the higher frequencies of love, joy, Light, Divine Spirit, God, etc., have the power to bring healing, health and long life. This is the wisdom on which many of the ancient healing arts and sciences have their foundation. 
Chinese Medicine, Ayurveda (Vedic) Medicine, Native American Medicine, and many others have long understood that humans are a microcosmic part of the macrocosm of the earth. They understood that we can observe the patterns of nature and apply that wisdom to promote and maintain our own well-being.
They understood that what we do to the earth and our environment, we are doing to ourselves. Energy is everything. Without higher forms of 'coherent energies', our food, water, and other healing therapies have less than optimal results. Keep reading to learn how to optimize the energies within you, as well as those around you, to achieve optimal health and longevity.  
What is the Energy of Medicine By Dr. Kathy Veon
Quantum Physics and Health | Raise Up Your Vibration!
Energy Medicine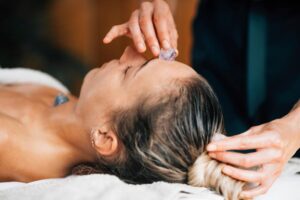 Ancient traditions of healing and medicine include the practices of acupuncture, herbology, sound therapy, homeopathic medicines, as well as flower essences and gemstone water, Noble / Inert Gas therapies, Qi Gong, Tai Chi, Shinrin-Yoku (forest bathing / absorbing the forest atmosphere / spending time in nature), earthing / grounding, positive affirmations, and the scriptural wisdom of practicing forgiveness, appreciation, love, joy, and grace. Many of these life-giving 'therapies' are free to us and available as we choose to mindfully participate. 
We are energetic beings. Each of our cells 'vibrate' to a specific frequency, which is ever-changing depending on our environment, thoughts, and beliefs. Higher vibrations create healing and often 'miracles', and low vibrations create sickness and disease.  
Dr. David Hawkins is well-known for creating the 'scale of consciousness', which has been implemented in the healing of addictions, mental and emotional disorders, and other diseased states.
Dr. Masaru Emoto confirmed numerous scientific experiments with the measurable effects of thoughts, words, and sounds on water.    
Acupuncture also works by stimulating specific points on energy meridians and 'command center' points where the body's subtle energies, also known as Vital Force or Qi, can be unblocked or directed in a way that returns the body, mind, and spirit to a balanced and healthy state. Acupuncture meridians are a stable network of water clusters and can be affected by various means of 'stimulation', including needles, gemstone placements, touch or acupressure, massage/tui na, breathwork, and body movements, such as is practiced in the healing modalities of Tai Chi and Qi Gong.  
Frequency Healing
Surrounding ourselves in coherent, structured, and healing frequencies supports our whole being, including heart rate, mitochondrial function, sleep-wake cycles, inflammatory responses, lowering oxidative stress and so much more. Our environment is being flooded at an alarming rate with very chaotic frequencies from wireless technology and the newest RF-EMF bandwidth known as '5G'. Restoring our peaceful environment is beneficial for everyone, including animals, plants, insects, and all living things. Somavedic offers a technology that is based on broadcasting the healing frequencies of gemstones and metals into the environment to create a more 'structured' and peaceful foundation for our cells and bodies to function. You can learn more and also order any device at a 15% discount by using the code CFPM. Many of the devices offer the added feature of structuring water/fluids that are placed next to the unit. 
Enjoy reading more about  – What is the Energy of Medicine By Dr. Kathy Veon
Structured Water
Structured water is far more hydrating and healing than the 'dead' water, laced with toxic chemicals, that we most often drink from the water treatment plants, modern plumbing, and water delivery systems.  We have lost the valuable wisdom of how to care for the water we drink. Aqua Energizers utilize copper and quartz to 'structure' and energize water. 
All living beings thrive when given structured water. Nature naturally structures our water, however, we have strayed from nature and its wisdom and laws that keep us healthy and thriving. To learn more about structured water and the work of Dr. Gerald Pollack, you can click this link.  
Voice Mapping & Bio-Feedback
The energy of our voice can reveal much about our subconscious health, beliefs, and behavioral patterns. EVOX Perception Reframing is an excellent way to 'reframe' negative emotional patterns that have been passed down through generations. Once the stagnated, excessive energies are removed and brought back into balance, our minds, emotions, and bodies can more completely heal and our lives can become more vibrant.  
Reducing Chaotic Energies
Decades of research has shown the detrimental effects of Radio Frequency Wireless Technology exposures. Our entire bodies are negatively affected, however the cardiovascular system is quite sensitive to chaotic frequencies. 
Dr. Thomas Cowan offers a wonderful video about how the 'Heart is Not a Pump' and goes into detail about the heart's true functions, structured / '4th Phase of Water', and how EMF's alter our ability to heal, which leads to many diseased states. The massive increase in Autism, ADHD, and many other mental, emotional and behavioral disorders needs our honest attention. There are many educational resources to learn about the science and legal actions, how to hardwire instead of using wireless, and using shielding materials and meters to create a low EMF environment in which to live and work. Safe Living Technologies is a wonderful resource for all meters and remediation needs.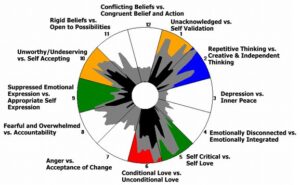 The 'Energy of Medicine' is very powerful. Remembering what it means to be human is key, as we are made of both matter and energy.
Many more healing resources are available on the Patient Resources page. Consuming nutrient-dense foods, healthy lifestyle habits including daily exercise, sunlight, restful and restorative sleep, healthy thought patterns, relationships and environments are necessary to achieve true healing.
Thanks for reading the 'What is the Energy of Medicine?' By Dr. Kathy Veon, Your Local Holistic Doctor in Florida!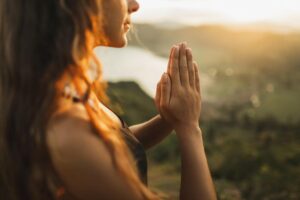 For more information about how Clinical Nutrition, QRA, EVOX Therapy, Integrative, Functional and Holistic Medicine can help you attain excellent health, please call the office: 407-328-6711
or email: Kathy@DrKathyVeon.com
Wishing you true health and happiness! Dr. Kathy Veon, DAOM, AP, CCN, Dipl. Ac. / You local Doctor of Acupuncture & Oriental Medicine; Acupuncture Physician; Certified Clinical Nutritionist & Diplomate of Acupuncture (NCCAOM).
WHAT HOLISTIC THERAPIES ARE GOOD FOR MENTAL HEALTH?
Keep Up With Dr. Kathy Veon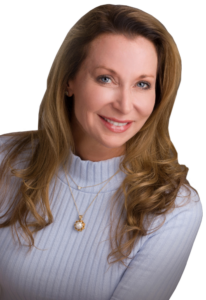 Dr. Kathy Veon, DAOM, AP, CCN is a graduate of Emperor's College of Traditional Oriental Medicine in Santa Monica, CA as well as Florida College of Integrative Medicine in Orlando, Florida. 
She is a board-certified Licensed Acupuncturist, Certified Clinical Nutritionist, and Doctor of Acupuncture & Oriental Medicine. Dr. Veon is currently serving as Chair of the Florida Board of Acupuncture, and Committee Chair of Continuing Education for the International and American Associations of Clinical Nutritionists (IAACN).   
She holds a private practice in Lake Mary, Florida at Central Florida Preventive Medicine where she specializes in holistic medicine therapies such as Functional Medicine, Clinical Nutrition, Quantum Reflex Analysis (QRA), Acupuncture, Pelotherapy, NAET (allergy elimination technique), Western and Chinese Herbology, Nutrigenomic Testing and Nutritional Therapies, EVOX Perception Reframing, Environmental Medicine and helping her patients overcome chronic and debilitating illnesses through finding and correcting the root causes of disease.
Our office has numerous services to assist people with achieving a good foundation of health – please visit the services page now to learn more. To learn about the other diseases that our medical office handles – please visit the diseases page now. Furthermore, to learn more about Doctor Kathy Veon now – visit her Linkedin page – just click this link.