What are Parasitic Infections?
Parasites and Health
What are Parasitic Infections? – Parasitic infections are far more common than most realize and the symptoms go beyond gastrointestinal symptoms. The entire body can be affected by an acute or chronic infection. Hormone imbalances, brain fog, mood swings, skin eruptions, and lowered immunity are just a few of the symptoms that can coincide with a parasitic infection. Herbal and nutritional therapies can be helpful to correct the infection and restore normal health and wellness. Keep reading to learn how applied kinesiology, laboratory testing, herbal, and nutritional therapies can help.
Herbal Medicine – 
Holistic Medicine Therapies
What are Parasitic Infections? Written by Dr. Kathy Veon
Parasites and Health Effects
Parasitic infections are far more common in our modern world than most people know. Sources of exposures can come from our food, including vegetables and fruits, raw or undercooked fish and pork, contaminated soil and water, as well as interactions with the saliva or excrement of animals. Not all exposures will lead to an infection.
Our bodies are designed to resist infections through the means of proper stomach acid balance and a healthy gut microbiome. However, our modern culture does not support healthy eating or lifestyle habits, and may people have been on acid reducing medications for years and no longer have the inner mechanisms to resist pathogenic invaders. Some of the many signs of parasitic infection include:
Digestive problems, bloating or gas
Never feeling full after meals
Hormone imbalances
Skin problems, eczema, hives, rashes
Anxiety, depression, mood swings
Infections, lowered immunity
Grinding teeth at night
Fatigue, muscle and joint pain
Iron deficiency anemia
Trouble falling asleep or disrupted sleep
Parasitic infections typically take hold in two main areas:
Intestinal
Liver / Gallbladder (flukes)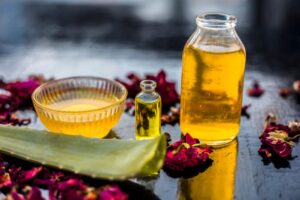 Herbal therapies and protocols are excellent ways to overcome parasitic infections. Two main herbal formulas from PRL are very effective and make use of the main herbs: Clove and Holarrhena.
Paratosin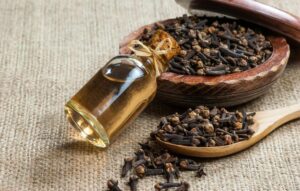 herbal formula from PRL is typically used to treat infections of the Liver and Gallbladder area where 'liver flukes' tend to reside. This 30-day protocol is very effective as it uses Clove as the main herb.
ParaStat herbal formula from PRL is typically used to treat infections found in the intestinal tract. This protocol can last about 90 days and must be used along with castor oil packs on the abdomen to ensure all 'dormant' eggs and organisms are exposed to the anti-parasitic action of the Indian Holarrhena herb.
Probiotics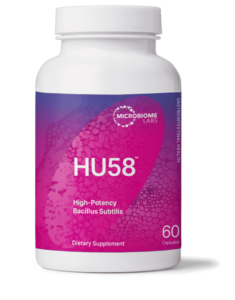 Microbiome health and overall diversity is very important in being resistant to parasitic infections, as well as for overall immune strength. A healthy microbiome supports a healthy immune response naturally. Environmental factors such as EMF exposures, chemicals, medications, and antibiotic use can disrupt a healthy microbiome and lead to weakened immunity, allowing opportunistic pathogenic organisms to take over.
Microbiome Labs has several formulas to heal and balance microbiome health. Specifically, HU58 is a spore-based probiotic that is excellent in overcoming pathogens in the microbiome and also healing inflammation in the gut lining. HU58 can be used as an initial therapy, following up with a full gut healing protocol once the pathogenic overgrowth has been reduced or eliminated.
Testing and Diagnosis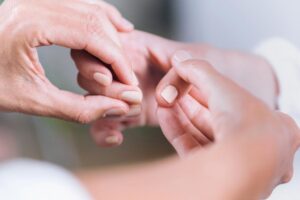 Laboratory testing and in-office muscle testing of the key acupuncture command center points are both very helpful to determine the main source of the parasitic infection, as well as the appropriate herbal or probiotic formula and dosage necessary to heal the imbalance and restore health.
The main points tested are related to the spleen, pancreas, liver, gallbladder, stomach, small intestine, and large intestine. Detoxification support is often provided by testing the kidneys, brain, hypothalamus, and pituitary points.
Acupuncture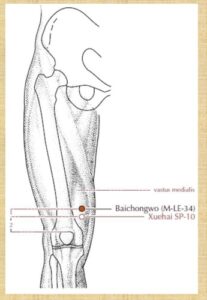 Acupuncture points can help support overall healing from parasitic infections. One point, in particular, is known as Baichongwo, or 'Hundred Insect Burrow'. This point is traditionally used in Chinese Medicine to treat skin conditions, rashes, eczema, and other symptoms and root causes of parasitic infections. This point's actions include:
clears blood heat
dispels wind
resolves dampness
Acupuncture in-office or acupressure as an at-home follow-up therapy can be recommended.
In-office testing is available to determine if parasite cleansing protocols are necessary.
Many more healing resources are available on the Patient Resources page. Consuming nutrient-dense foods, healthy lifestyle habits including daily exercise, sunlight, restful and restorative sleep, healthy thought patterns, relationships, and environments are necessary to achieve true healing.
Thanks for reading "What are Parasitic Infections?" Written by Dr. Kathy Veon
For more information about how Clinical Nutrition, QRA, EVOX Therapy, Integrative, Functional, and Holistic Medicine can help you attain excellent health, please call the office at 407-328-6711 or email: Kathy@DrKathyVeon.com.
Wishing you healing, joy, and happiness! – Dr. Kathy Veon, Doctor of Acupuncture & Oriental Medicine; Acupuncture Physician; Certified Clinical Nutritionist (CNCB); and Diplomate of Acupuncture (NCCAOM).